BIOGRAPHY
---

1. Research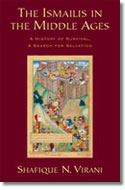 The Laurier Institution and the University of British Columbia have described Professor Virani as one of "the world's most renowned scholars in Islamic studies." He has been a keynote speaker for the National Press Club; at Her Excellency the Governor General of Canada the Right Honourable Michaëlle Jean's acceptance of the United Nations Development Fund for Women (UNIFEM) Award; on Parliament Hill for the Canada School of Public Service; and at universities and civil society organizations around the globe. Now holder of the title of "Distinguished Professor" and Chair of the Department of Historical Studies at the University of Toronto, one of the largest divisions at the university, Virani was previously on the faculty of Harvard University and later the Head of World Humanities at Zayed University in the United Arab Emirates. After earning a joint honors degree with distinction in Religious Studies and Middle East Studies and a master's degree in Islamic Studies at McGill University in Montréal, he completed an MA and PhD at Harvard University. His doctoral thesis was awarded "Best Dissertation of the Year" by the Foundation for Iranian Studies, earned Harvard University's Ilse Lichtenstadter Memorial Publication Prize, and was recognized by the Malcolm H. Kerr Dissertation Award of the Middle East Studies Association as "a path-breaking work of Islamic history." His book, The Ismailis in the Middle Ages: A History of Survival,A Search for Salvation, is published by Oxford University Press. It has received scholarly acclaim, being described as "Fascinating and elegantly written" (Sir Harold Walker, President, British Society for Middle Eastern Studies), "A masterful reconstruction" (Prof. Ali Asani, Harvard University), "Discerning and sensitive" (Prof. Wilferd Madelung, Oxford University), "A major contribution" (Dr. Farhad Daftary, Institute of Ismaili Studies), "Richly nuanced and compelling" (Prize Committee for the Middle East Studies Association of North America), and "Scholarly and tender, subtle as well as moving," (Prof. Robert Wisnovsky, McGill University). For more about the book, please click here. To read some of Professor Virani's other publications or to download his podcasts, please click here.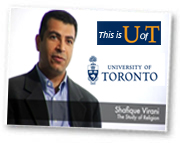 Professor Virani talking about the Dream Team in the This is UofT video

Watch the video
Professor Virani also leads the "Virani Dream Team," the University of Toronto's largest humanities research group. Students trained by Professor Virani have been acknowledged in his writings, have had the opportunity to present their findings at research fairs, and have had their own work published. The University's Research & Innovation Report commends the Virani Research Team initiatives for their "intriguing and socially relevant subject matter" that "bring together multiple academic departments." The projects were noted for having "a much wider social impact, contributing to cultural diversity and understanding." The article concluded, "Virani's passion for his work is obviously contagious, and he, in turn, delights in the motivation of a brilliant team." To learn more about opportunities to join the Research Dream Team, or to be mentored by Professor Virani at the postdoctoral, graduate or undergraduate level, please click here.
International Book of the Year
Malcolm H. Kerr Award of the Middle East Studies Associations
Foundation for Iranian Studies Award

2. Teaching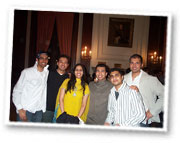 With Harvard students at the Annual Ghungroo Program.
Enlarge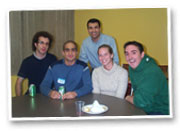 With University of Toronto students at his class Iftar Dinner.
Enlarge

"These Professors Made a Lasting Impression" proclaims the headline of the March 14, 2010 issue of The Chronicle of Higher Education. The front page features a photograph of Prof. Virani, surrounded by scores of his exuberant students. Within a semester of his arrival at the University of Toronto in 2006, attendance in his flagship course, Introduction to Islam, increased by well over 100%. With a lack of seats and oversubscribed waitlist, those hoping to gain admission often sit on tables, in the aisles, and on the stairwell until the last day of the add-drop period. Both Maclean's Magazine and TV Ontario have recognized Virani's talents as a lecturer, and literally hundreds of student letters testify that his inspired teaching makes students want to learn for the pure joy of learning. Ifrah Iqbal writes, "I was amazed to see a number of people attending his class, who were not even enrolled in his class, but attended just to listen to his lectures."
Prof. Virani's teaching experience spans not only a diversity of subject matters but educational contexts as well. He has taught boatmen on the banks of the Ganges in Benares and members of the royal family in Abu Dhabi, Afghan refugee children in Calgary and Indonesian mullahs at McGill, troubled teenagers from inner-city high schools and both graduate and undergraduate students at Harvard. He loves teaching and has enjoyed learning from students of incredibly diverse backgrounds, in numerous countries and a variety of languages. The recipient of numerous teaching awards, Dr. Virani has pioneered the incorporation of multimedia and computer innovations in the curriculum to supplement traditional teaching methods. He is the first professor in North America to incorporate the I>Clicker classroom response system into the teaching of history and religion.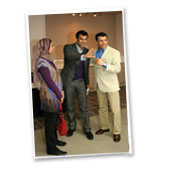 Little Mosque on the Campus: Zarqa Nawaz and Zaib Shaikh with Prof. Shafique Virani
Watch Video
Virani brings the real world right into his classroom through high profile in-class events. His classes and outside events have featured "talk shows" with prominent guests, including Canadian artist Sherazad Jamal of Vancouver, media gurus Haroon Siddiqui and Eric Margolis, and even Canadian cultural icons Zarqa Nawaz and Zaib Shaikh from the CBC hit television show, Little Mosque on the Prairie, who were sponsored through the university's Religion in the Public Sphere initiative and the Snider Lecture series. Citing one of Virani's students, the university's Centre for Teaching Support and Innovation wrote of his approach: "[His] class is like a Socratic dialogue, Oprah, and Who Wants to Be a Millionaire combined!"
In its citation upon awarding him its highest honor in teaching, the Ontario Confederation of University Faculty Associations (OCUFA) wrote: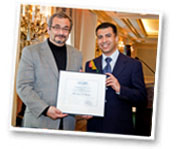 Receiving the 2010 OCUFA Teaching Award.
Enlarge
Students...are amazed at the amount of time he dedicates to them, both inside and outside the classroom. Or as one student puts it: "there's no doubt that he's an amazingly talented teacher that's dedicated enough to be eager and excited to put his own life on hold to help his students. I can't say enough about him. He's just perfect."
It also cited the past chair of the Department of Historical Studies, who wrote, "Unsolicited and spontaneous feedback from his students reveals that something extraordinary is taking place.... Shafique Virani's achievement in the classroom is not simply to successfully teach the material. It is to transform lives."
Citation for OCUFA Teaching Award
These Professors Made a Lasting Impression, Chronicle of Higher Education
Little Mosque on the Prairie Visits UTM, The Medium
Collaborative Technology Provides New Options for Students and Teachers
3. Outside the Ivory Tower
In his spare time, Professor Virani loves doing volunteer work. He founded an Arabic summer camp for Syrian youth in the mountains of al-Khawabi and also volunteers with the Madrasa Resource Centres of East Africa, which reach out to slum dwellers and other disadvantaged communities in Kenya, Tanzania, Uganda and Zanzibar.
He enjoys fiction, and co-wrote and acted in a Gujarati comedy, entitled Sui Gayo Hashe (સુઈ ગયો હશે) or He Must Have Fallen Asleep, which was performed in Vancouver, Edmonton and the Jubilee Auditorium in Calgary.
Volunteer had Excellent Role Models, The Bulletin
Prof. Virani Volunteers to Improve Childhood Education in East Africa