Mentorship
Professor Virani also leads the "Virani Dream Team," the University of Toronto's largest humanities research group. Students trained by Professor Virani have been acknowledged in his writings, have had the opportunity to present their findings at research fairs, and have had their own work published. The University's Research & Innovation Report commends the Virani Research Team initiatives for their "intriguing and socially relevant subject matter" that "bring together multiple academic departments." The projects were noted for having "a much wider social impact, contributing to cultural diversity and understanding." The article concluded, "Virani's passion for his work is obviously contagious, and he, in turn, delights in the motivation of a brilliant team." To learn more about opportunities to join the Research Dream Team, or to be mentored by Professor Virani at the postdoctoral, graduate or undergraduate level, or to request a letter of recomendation please consult the relevant sections below.
---
---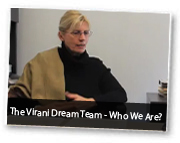 The Virani Dream Team - Who We Are?

Watch the video
1. Overview
The University of Toronto's Research & Innovation Report describes the Virani Research Dream Team as "brilliant." The Dream Team brings together questing minds, passionate spirits and intellectual seekers who long to work for the betterment of society. Exceptionally creative and talented students from a wide array of disciplinary, ethno-cultural, and experiential backgrounds are selected every year to join the team, which is the largest humanities research group at the University.
The Virani Dream Team - What We Do?
Watch the video
Every year, the team attracts outstanding postdoctoral fellows, and doctoral, masters and undergraduate students from around the world. These students have the opportunity to be mentored by Prof. Virani, to learn from each other, and to engage in exciting independent and collaborative projects. They learn that solutions often come from looking at age old problems in novel ways, from perceiving the significance of serendipitous results, and from understanding that failures are the stepping stones to success.
a. The University of Toronto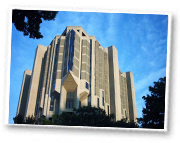 Robarts Library at the University of Toronto.
Enlarge

As one of the world's premier universities, the University of Toronto is perhaps unparalleled in the richness of what it can offer to students of Islam and Muslim Civilizations. With some forty widely-respected faculty members specializing in a variety of areas related to these fields, one of the world's most extensive library collections, remarkable study abroad opportunities, and countless clubs and scholarships that would be of interest to those who study Islam and Muslim Civilizations, the opportunities available at the University of Toronto are unmatched.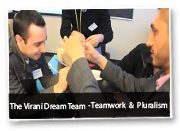 The Virani Dream Team - Teamwork and Pluralism

Watch the video
The city of Toronto itself is an ideal venue for the study of Islam. Muslims represent the second largest religious group in the country, and Toronto is home to the highest percentage of Muslims in North America. Toronto Muslims hail from Africa, the Arab world, Central Asia, China and the Far East, Iran, South Asia, the West Indies and elsewhere. They also represent a wide spectrum of interpretations of the faith, with over sixty mosques and other Muslim places of worship in the city. In addition, Toronto is home to the Aga Khan Museum, an institution whose collection of materials related to Islam and the Muslim world will be unequalled in the English-speaking world.


2. Joining the Virani Research Dream Team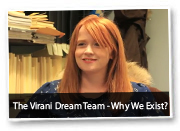 The Virani Dream Team - Why We Exist?

Watch the video
Prof. Virani coordinates a research team comprised of dozens of enthusiastic students from various departments, with the aim of making research in the Humanities accessible to a wide audience both within and beyond the boundaries of academia. Together, the team draws on strengths from a broad range of skill sets and experiences, including knowledge of many Eastern and European languages, website development, art, filmmaking, dramatic expertise, audio engineering, computer programming, music, information systems, library sciences, cartography, research, and creative writing.
The Virani Dream Team - What is it Like?

Watch the video
Past students have, for example, interned with documentary makers to produce films, worked on radio dramas, created maps and artwork for publication, assisted with the creation of website and class resources on Islam, and helped prepare grant applications, thus gaining valuable transferable and practical skills that can be applied to a wide variety of personal and career goals.

Al Zahir Tharani's research work with Prof. Virani was featured in the University of Toronto Mississauga Magazine. His collaboration with the Dream Team helped bring to life the diaries of Pir Sabzali, a traveller through India, China, Tajikistan and Afghanistan during "The Great Game" - a rivalry among the British, Chinese and Soviet empires for territory in Central Asia. "It's about following clues and problem solving," he told the reporter.

Research Coordinator Ms. Shanifa Nasser, joined the Virani's Research Dream Team as an undergraduate, and is now a doctoral candidate at the University of Toronto. She published an account of her adventures in the Departmental Newsletter, writing, "The experience transformed my understanding of what can be involved in research and how fruitful such innovative methods could be.... I acquired first-hand knowledge of how to work with translations, critical editions and annotated bibliographies, an opportunity I otherwise may not have had before graduate school."
Follow the Clues, UTM Magazine (Spring 2009)
Research Teams in the DSR: Islam and Muslim Civilizations, Department for the Study of Religion Newsletter (Spring 2011)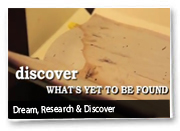 The Virani Dream Team - Dream, Research & Discover

Watch the video
How to Apply

Students may apply to join the Dream Team through the Research Opportunity Program, Independent Studies courses, Graduate Reading Courses, Faculty of Information Systems (FIS) Practicum Courses, and Paid Internships (including Work-Study and the Summer Experience Program). All of these are explained below in further detail.

Applications will be reviewed by an admissions committee and should include:
Cover letter indicating interest and what skills can be contributed
CV (including names and contact information for references)
Transcripts (unofficial copies are acceptable and can be cut and pasted from ROSI)
A writing sample, preferably from a humanities or social sciences course
Students applying for cartography, art, web design, or other audio/visual positions must include samples of their best work, or provide a link to an online portfolio
Language students will be required to complete a short aptitude test to assess their level of competence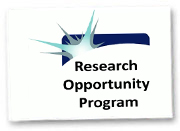 ROP: A Great Experience

Watch the Video
a. Research Opportunity Program (ROP)

Undergraduate students who wish to join the research team are encouraged to do so through the university's Research Opportunity Program. As commuting is minimal, these positions are open to applicants from any of the three University of Toronto campuses, and to applicants who are cross-registered from other universities.

Applications at the 299 level can be submitted through UTSG, while applications at the 299, 399 and 499 levels can be submitted through UTM (UTSG and UTSC students are welcome to apply via UTM). Further details and application forms are available from the following URLs:

ROP Website at UTSG: 299-level - Description found under Religion- Application deadlines for UTSG are generally in late February (for Summer projects) or mid-March (for Fall-Winter projects).

ROP Website at UTM: 299, 399 and 499 levels via UTM (but open to students from any campus, description under Historical Studies, Religion) - The application deadline for UTM is generally early March for both Summer and Fall-Winter Projects.

b. Independent Study

Students who are ineligible for the ROP program or who have missed the deadline may apply for an independent study in any of the projects open to ROP students. However, for the best chance of being admitted, students are encouraged to apply for the ROP rather than an Independent Study.

c.Graduate Reading Courses

Applications for Graduate Reading Courses must fall into an existing project. The application procedure is the same as outlined above.

d. FIS Practicum Courses

Faculty of Information students may apply to join the team through the course INF2173H – Information Professional Practicum. The list of projects and information on application procedures is available through Adriana Rossini at the iSchool, This email address is being protected from spambots. You need JavaScript enabled to view it. .

e. Paid Internships

Paid internships may occasionally be available to exceptional undergraduate or graduate applicants. Generally, students who wish to pursue a paid internship must apply through the university's Work-Study Program or the Summer Experience Program. Application procedures and requirements for Work-Study are available here. For other opportunities, check the University's Career Website or contact Ms. A. Asrani, Research Coordinator, This email address is being protected from spambots. You need JavaScript enabled to view it. .

Occasionally, internships may also be available to students who are not eligible for Work-Study or Summer Experience positions.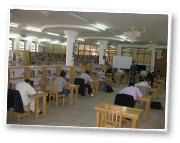 A sample graduate project conducted by graduate student Shaftalou Gulamadov on Testing and Teaching Methods on Islam


Click here to read Gulamadov's experience
f. Graduate Student Supervision

Admissions to the University of Toronto are administered by the respective departments, and graduate students wishing to work with Prof. Virani should read the information and follow the directions on the websites of the Department for the Study of Religion and/or the Department of Near and Middle Eastern Civilizations. Prof. Virani provides graduate and postdoctoral level supervisory mentorship in Islamic history and philosophy, Sufism, Shi'ism (both Twelver and Ismaili), Islamic literatures in Arabic, Persian and South Asian languages, and digital humanities approaches to any of these. Potential graduate students should contact Prof. Virani at shafique.virani [AT] utoronto.ca with details of their research interests and copies of their CVs and academic transcripts to discuss potential supervision.

Students from outside institutions who would like Dr. Virani's input on their dissertations must first discuss this possibility with him, and then have their advisors send an official request on university letterhead inviting him to become an external reviewer on the thesis committee.
3. Letters of Recommendation
Students requesting letters of recommendations from Dr. Virani should first read the advice provided by the Dream Team. Click here to read.